This topic is for links to relevant news, interesting websites, quick opinions and inane ponderings. Postings in this thread are considered "open-thread", meaning that anyone can post a comment on any of the articles, whether the comment relates to the post or not. If you have something random to say, this is the place.
Links, Thoughts, and Open Thread
Posted by jck142

on 2016/2/28 1:38:15

(

1715 reads

)
The Friends of the Lewisville Public Library will hold their semi-annual Book Sale on March 18, 19 and 20.

The presale is Friday from 5-7 with an entry fee of $5 per person. Saturday hours are 9-5 and Sunday 1-5. We offer thousands categorized titles with a large number of children's books, mystery and reference titles Also for sale are CD's, DVD's and VHS tapes. All proceeds will benefit the Lewisville Public Library. The Library is located at 1197 W. Main Street, Lewisville, TX

Please contact friendsofthelpl@gmail.com for additional information.

- Rating: 0.00 (0 votes) -
Links, Thoughts, and Open Thread
Posted by WhosPlayin

on 2015/3/25 13:20:00

(

2958 reads

)
It's been awhile since we posted links, so some of these might be a week or two old, but I thought them better late than never:

Here are a list of bills in the Texas Legislature that seek to undermine local control. Texans are normally big on local control, but certain industries like oil and gas or loan sharks can afford lobbyists, so we see an all-out race by some legislators undo the will of the people at the local level.

Lewisville resident Patrick Booth is on a mission trip as part of The World Race. Here's a recent update from him.

The Leader's Chris Roark has a really solid article on Lewisville ISD's struggle to deal with a looming budget deficit of $35.6 million. The state continues with unfunded mandates and high-stakes testing, while simultaneously and systematically under-funding public education. I'd say this was the planned outcome by those looking to undermine, then privatize education.

Also, we mentioned this briefly in another article, but Roger Myers all but withdrew from the LISD board race against Trisha Sheffield, leaving just one race in play.

It's a bit dated by now, but earlier this month, Denton Record Chronicle's Peggy Heinkel-Wolfe had a great article about the region's drought, and reservoir levels. As of 5 a.m., Lewisville Lake sat at 517.92 feet, or just a little more than 4 feet below conservation pool. We're doing much better than we were last month. Lewisville Deputy Mayor Pro Tem Neil Ferguson shared this letter this morning:

"Attached for your information and use is copy of a memorandum from Mr. Mark McDaniel, Assistant City Manager, City of Dallas, to the Mayor and the Dallas City Council regarding Drought Update.

Dallas will not implement Stage 1 of its Drought Plan on April 1, 2015 as we'd originally anticipated in January 2015. Since January 2015, we have seen a significant improvement (>10% increase) in total water supplies to 76.34% remaining as of March 18, 2015. Our models now project that Dallas may enter Stage 1 of the Drought Management Plan as early as late summer 2015 if drought conditions persist. Dallas will continue to monitor the ongoing drought conditions and provide you with periodic updates on the status of our water supply.

We are thankful for the water management efforts of all of the wholesale customers and appreciate your continued support.

Please let me know if you have any questions or need additional information.

Best Regards,
Jacqueline (Jackie) Culton, P.E., Program Manager
Wholesale Services Division
City of Dallas/Water Utilities Department"

Lewisville purchases all of its water from Dallas, so this is good news.

The talk of the town, with a record-breaking 566 comments on the City of Lewisville Facebook group has been that Vista Ridge Mall appears headed for foreclosure. Most folks saw the DMN blog about it, but The Dallas Business Journal has a pretty informative article about it. The long and short of it is that the mall doesn't earn enough from rents to cover its debt service payments.

Ex-pastor Jeffrey Dale Williams, formerly of The Church of Corinth was sentenced to probation after pleading guilty to "injury to a child". He spent two hours trying to persuade a young girl to take off her clothes in 2013, and the whole thing ended up being audiotaped. Be sure to read the comments for some additional background.

Neighbors Go's Adam Schrader has an article about a group of Lewisville High School students helping senior citizens learn how to operate iPads.

A Lewisville woman is out $4,000 after her tax preparer stole her refund.

Ten scientific ideas that scientists wish you would stop misusing

Lynyrd Skynyrd will be playing at Lewisville's Western Days festival this year. The festival is Friday, September 25th and Saturday, September 26th, 2015.

Global investment firm KKR is acquiring Lewisville-based Air Medical Group Holdings. Reuters reported the deal was worth about $2 billion.

- Rating: 0.00 (0 votes) -
Links, Thoughts, and Open Thread
Posted by LewisvilleTexan

on 2015/3/2 4:30:00

(

2889 reads

)
Lewisville PD's Tip411 service to replace eAlerts March 15
Lewisville Police Department's eAlert service will be discontinued on March 15. Residents who have not signed up for the new Tip411 service will no longer receive Lewisville Police eAlerts after that date.

Tip411 was adopted by Lewisville Police Department in October as a way for residents to provide anonymous tips through text, email or a downloadable app for Android or Apple smartphones. Tip411 also offers a way to keep the community connected and informed through email, text message and online public safety alerts.

Interested persons can register to receive alerts from Lewisville Police Department via email and/or text message to their cell phone by signing up to receive alerts about public safety information and announcements. Using Tip411 to replace the eAlert system also allows users to manage their own subscriptions to the service.
Community members are encouraged to sign up or manage their account online by visiting Tip411


---
Great Texas Warrant Roundup starts March 7
Representatives of law enforcement agencies and courts from more than 300 jurisdictions across Texas, including Lewisville, have announced combined efforts to host the ninth annual Great Texas Warrant Roundup beginning March 7.

The roundup is designed to target thousands of defendants with traffic, parking, city ordinance, penal code and higher charge warrants from participating jurisdictions. It is believed to be the largest joint operation of its kind with arrests expected to continue for several days. Hundreds of thousands of notices were recently mailed statewide by participating entities.

Anyone who believes they have an outstanding warrant is urged to contact the appropriate jurisdiction or jurisdictions to dispose of their cases voluntarily and avoid the inconvenience of arrest at home or work. Lewisville Municipal Court can be contacted at 972.219.3436. You can look at the active warrant list for Lewisville here.

Do not send another person to pay your fines. People are subject to arrest until their payment has been accepted by the court and properly posted. Checks are not accepted. Payments will be accepted in cash, money order, Master Card or Visa. Pay online at cityoflewisville.com.


---
Simmons Files Bill to Name Bridge for Bobbie Mitchell
State Representative Ron Simmons filed a bill to designate the I-35 bridge over Lewisville Lake as the Bobbie J. Mitchell Bridge. Mitchell currently serves as the Precinct 3 Denton County Commissioner and was a former mayor of Lewisville. You can read the bill here.


---
City partners with UNT to reach sustainability goals
The City of Lewisville has partnered with University of North Texas to conduct a resource and efficiency assessment for city facilities – a significant step in implementing recommendations of the Lewisville 2025 vision plan adopted last year.

The community identified sustainability as a key area of focus while helping develop the Lewisville 2025 plan, and the city is committed to properly managing the environmental impact of its own facilities and operations.

The assessment of existing city sites, facilities and vehicle fleet will identify the potential for more efficient energy and water use, on-site energy generation and water collection, and site enhancements that will help residents and customers access services and facilities more conveniently. Information gathered during this study, and the resulting recommendations, will provide the basis for development of realistic solutions to reduce resource use and achieve cost savings.

UNT Sustainability was established in 2009, and since that time it has integrated sustainability principles and concepts into every aspect of the university's infrastructure. UNT founded its Sustainable Communities Initiative to share the benefits of its experiences and expertise by providing support to communities seeking to become more sustainable.


---
Lewisville student participates in 34th annual Texas Scottish Rite Hospital for Children Amputee Ski Trip
Selam Rinkevich, 16, of Lewisville, attended the Texas Scottish Rite Amputee Ski Trip for the second time. Selam was born in Ethiopia and suffered burns as a baby, resulting in the need to have her leg amputated. Texas Scottish Rite Hospital for Children has given her the ability to be a kid and participate in normal activities girls her age like to do, such as running. She absolutely loves to read, as well as make new friends, which she looks forward to doing on the trip.


Read More... | 9184 bytes more - Rating: 0.00 (0 votes) -
Links, Thoughts, and Open Thread
Posted by LewisvilleTexan

on 2015/2/11 15:00:00

(

3546 reads

)
We don't always have the time to cover every newsworthy story in our city, but we do like to share links to stories that we think would be interesting to our readers. Here are some that we've been reading:

Many Lewisville residents get their cable television, telephone, and internet service from Verizon. Sometime next year, Frontier Communications Corporation will take over Verizon's business in this market.

There has been a lot of talk about vaccines recently, as measles has re-emerged in the United States. There has been a fair amount of controversy over parents who refuse to vaccinate their children due to non-medical reasons. The Texas Tribune did an investigation of the rates of non-medical vaccine exemption in Texas School districts. Denton ISD came in pretty high at 12.4% non-medical exemption, while Lewisville ISD has a very respectable 1.18%. (Update: Denton ISD says its number was a mistake.)

Lewisville Fire Department has announced it's 2015 Keeping Tradition Alive Honor Guard, Pipes & Drums Symposium will take place on May 7th and 8th. The public jam and concert at City Hall will be held on Friday, May 8th, and they intend to bring back the Killdares to perform.

Lewisville and Coppell are working together on the reconstruction of the intersection of Lake Vista Drive and MacArthur, which is in Lewisville, but is highly used by Coppell residents in their commutes.

This is really going to happen. For real. They promise. Commence holding your breath now.

The Dallas Morning News has a special project called Transparency 2015, where they rated the overall transparency of governmental agencies in the area. The City of Lewisville scored an "A" rating with 96.2%. We agree with the score, and will note that the City of Lewisville is usually prompt and courteous, and seems to hold transparency as a core value. Lewisville ISD earned a "B" with 88.5%, mostly due to poor web customer service, and a failure to post online meeting notices. Longtime readers will note that The Lewisville Texan Journal has criticized LISD on these items before. While it is getting better, it has a way to go.

Worldpac Inc., an auto parts distributor, has opened a regional distribution center in Lewisville.

Rep Michael Burgess (R, Lewisville), along with Rep Crhis Van Hollen (D, Maryland) have introduced the Advancing Research for Neurological Diseases Act (H.R. 292)

Lewisville hired Yolanda Wilson as neighborhood services coordinator. The Lewisville Leader has more on what she'll be doing.

Flower Mound Councilman Bryan Webb wants the town to do something different to bring in more young families.

Here's a nice piece about Lewisville sculptor Ken Wheatley.

Lewisville firefighter Andy Allison had a nice retirement ceremony.

Baha'i Faith Center in Lewisville got a new playground.

Courtney Marlow, a junior at Lewisville High School earned her Girl Scout Gold Award.

The Town of Flower Mound received a grant to help with construction of a new lane at Gerault and FM 2499.

A teen brought a fake gun to LHS' Harmon campus, and got in some trouble.

State Rep. Ron Simmons would like to hear your thoughts on allowing the open carry of handguns in the State of Texas. He asks citizens to contact him and let him know if the legislature should pass open carry with a required license, without a required license, not at all, or something else. You can email him here.

ULTA Beauty is opening a new store in Lewisville.

The Big D Stair Climb raised funds to fight leukemia, and Lewisville city employees took part. The event this year honored Lewisville Fire Chief Tim Tittle, who himself battled leukemia.

- Rating: 0.00 (0 votes) -
Links, Thoughts, and Open Thread
Posted by LewisvilleTexan

on 2015/2/8 6:47:43

(

3943 reads

)
Chalk This Way! Festival looking for art vendors
Lakeside Arts Foundation is seeking fine art vendors for the Chalk This Way! Sidewalk Art Festival, sponsored by Greater Lewisville Arts Alliance and the City of Lewisville, on May 9. The event will be held from 9 a.m. to 6 p.m. outside the Medical Center of Lewisville Grand Theater, 100 N. Charles Street, in historic Old Town Lewisville.

Booths are $60 for fine art vendors selling original works of art or hand-crafted gifts and decorative items. Booths for nonprofit organizations are $30. Booths for food vendors and community and business vendors are $75 per space.

Admission is free to the event but there is a charge for some of the activities. The day-long event will feature professional chalk artists, amateur chalk art contest, scholarship contest, a children's non-competitive gallery, art, food and drink vendors, music and a variety of entertainment.

Details, rules, vendor forms and entry forms are available online at chalkthisway.org. For more information, contact Lakeside Arts Foundation at 972.625.1726 or email president@lakesidearts.org.


Central Elementary's Babino Named Lewisville Chamber Educator of the Year
Bilingual LEAP Teacher Gets New Car; Borenstein, Hadley Honored as Finalists

The Lewisville Area Chamber of Commerce named Central Elementary Bilingual Learning Enrichment Academic Program (LEAP) Teacher Alexandra "Ale" Babino as 2014 Educator of the Year at its Annual Awards Luncheon Jan. 27 at Hilton Garden Inn Lewisville.

"The Lewisville Area Chamber of Commerce and the more than 700 members it represents understands that education is one of the most important segments of a healthy business community," Chamber President Ray Hernandez said. "Ale Babino was an excellent choice for Educator of the Year because of her ongoing commitment to providing and expecting excellence in the classroom.

Babino was one of three finalists for the inaugural award, joining Lewisville High School Social Studies Teacher Robert Borenstein and Huffines Middle School 8th Grade English Teacher Jennifer Hadley. They were selected by Chamber representatives from the pool of 22 Lewisville ISD (LISD) Central Zone campus teachers of the year. The trio then replied to a questionnaire, including answering the question, "How have you changed children's lives as an educator? Read more...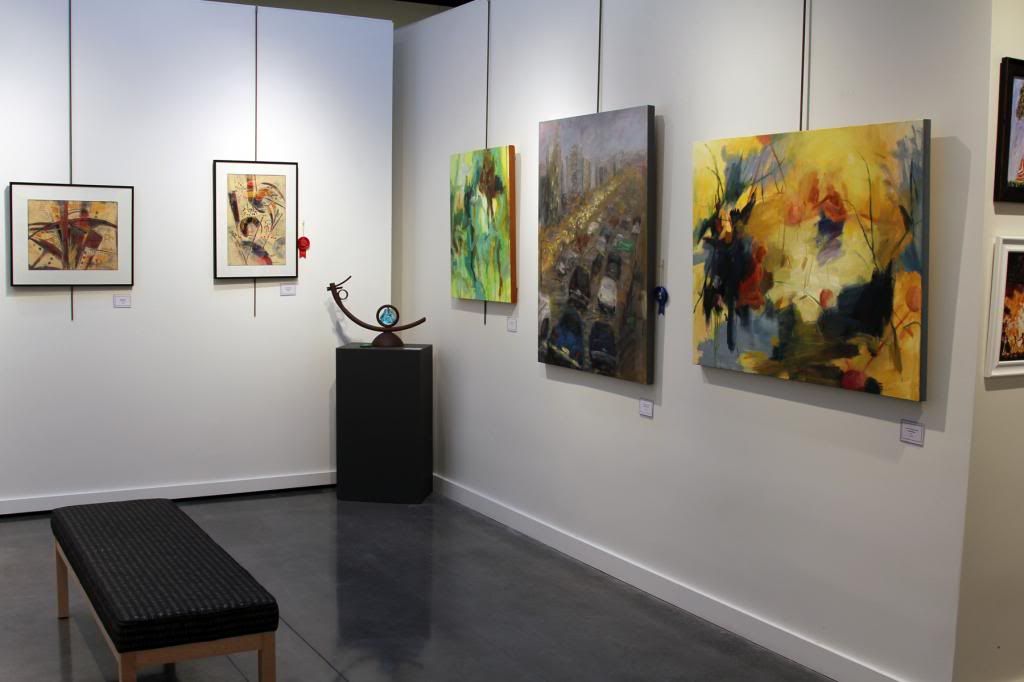 MCL Grand art gallery extends hours
Starting Tuesday, Feb. 10, operating hours for the art gallery at Medical Center of Lewisville Grand Theater, 100 N. Charles Street, will be extended to 10 a.m. to 5 p.m., Tuesday through Saturday. Previously, the gallery was not open until 1 p.m.
MCL Grand is the premier public arts facility in Southern Denton County. The 40,000-square-foot facility features a 296-seat proscenium theater, black box theater, dance recital hall, art gallery, five art classrooms and a large courtyard. Medical Center of Lewisville has a multi-year naming rights agreement for the city-owned facility.


Railroad Street to be closed for repairs until April
Railroad Street will be closed for repairs from Hebron Parkway to the entrance of DFW Landfill at 1600 S. Railroad Street. The street will be closed beginning Monday, Feb. 16, and will remain closed through Monday, April 13, weather permitting.

Access to Railroad Street will be available from Hebron Parkway via Lake Pointe to Corporate Drive. The detour route will be marked, and access to the DFW Landfill will be available from the north via Corporate Drive, Bennett Lane or State Highway 121 Business.
For information, contact the Street Division at 972.219.3510.

Library conducting online survey
Lewisville Public Library will conduct an online survey through Feb. 28 to find out how residents use the library, collections, computers and space, as well as what changes and improvements visitors would like to see at the library.

The Lewisville Public Library Board will incorporate the responses to the survey into a new Library Strategic Plan to guide future services and funding. The survey is available at cityoflewisville.com, as well as on computers in the library.


Vaughn appointed to National League of Cities committee
Lewisville City Councilman Leroy Vaughn has been appointed to the 2015 Finance, Administration and Intergovernmental Relations Steering Committee for the National League of Cities.
Vaughn is one of only two members appointed from Texas. As a member of the committee, he will play a key role in shaping NLC's policy positions and advocate on behalf of America's cities and towns before Congress, with federal agencies, and at home.

This committee has the lead responsibility for developing NLC federal policy positions on issues involving national economic policy, general financial assistance programs, liability insurance, intergovernmental relations, census, municipal bonds and capital finance, municipal management, antitrust issues, citizen participation and civil rights, labor relations, Native American sovereignty and municipal authority. The appointment was announced by NLC President Ralph E. Becker, mayor of Salt Lake City, Utah.

For more information on NLC's other committees and councils, visit nlc.org.
National League of Cities is dedicated to helping city leaders build better communities. NLC is a resource and advocate for 19,000 cities, towns and villages, representing more than 218 million Americans.


Lewisville Police Department announces third-quarter accolades
Lewisville Police Department named Officer Duk Lee as Officer of the Third Quarter 2014, and Virginia Fisher as Civilian of the Third Quarter 2014. Both employees were recognized for their outstanding job performance. Photo at right: Chief Kerbow is shown with Duk Lee (left) and Virginia Fisher (right photo)


Simmons Reports Committee Assignments
The Texas House of Representatives committee assignments were released Wednesday, and Rep. Ron Simmons (R, Carrollton) reports that he has been appointed to the House Transportation Committee and the House Business & Industry Committee. "I am especially honored to have been named Vice Chairman of the Business & Industry Committee," he said.

The Business & Industry Committee has jurisdiction over matters pertaining to industry and manufacturing, identity theft, relationships between employers and employees, oversight of the construction industry, and several other related matters

This article contains material from submitted reports
- Rating: 0.00 (0 votes) -